PRE-ORDER The Vansaders/Latewaves - Split 7"
$

12.00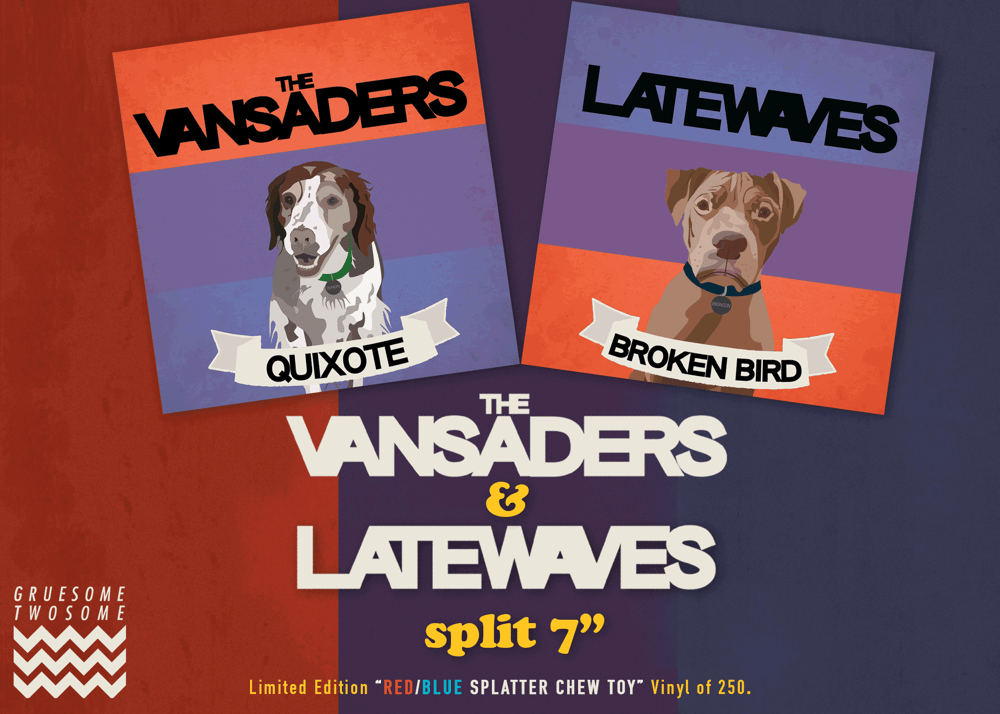 PRE-ORDER - ships early February.
The Vansaders and Latewaves deliver two halves that truly come together as a completed whole on this split EP. The sentimentality, honesty, and dry humor expressed through both sides makes it seem like they are completing each other's sentences (or bars in this case). It's a perfect pair and damn, it's a perfect set of six beautiful tracks (3 per side) split between two of NJ's most promising up and comers. Rock n roll bliss.
The Vansaders present the "Quixote" side. Themes of self-destruction, vices and toxic relationships texture the dense tones and unforgettable melodies. Vignettes about coping and moving forward from poor decisions and existential hell are celebrated with a beautiful connective tissue in lead singer/song writer, Doug Zambon's words.
'Red & Blue' closes their side with the futility of lashing out against the mundane. It's the perfect ending to three songs that never overstay their welcome, only peaking your interest for more Vansaders stuff.
Latewaves present the "Broken Bird" side. It is intended to be kind of a snapshot of the band in a moment. It marks a staggering progression forward as Latewaves decided what they liked and disliked about the previous EP. The band wanted to give their side a live sound treatment and record it the way they actually played live; with the bass signal being sent to an octave pedal as to double as a "2nd guitar." Singer/guitarist Mike Pellegrino has this to say about the feel: "It's called Broken Bird in honor of my dog, a rescue mutt that has a ton of health problems all the time, from surviving a porcupine attack to chronic skin disease, he still wags his tail and sees the bright side of things. I like to think it relates to the songs, especially "Weather," and also how we got pretty scrappy in the way we recorded the tracks."
Limited edition of 250 on clear 7" vinyl with red and blue splatter.